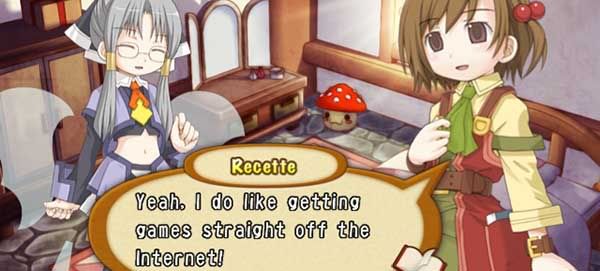 Time for a Recettear thread, cause lets face it this game is fucking awesome. Progress reports, thoughts etc etc.
To start off, my progress. I have gotten very little playtime in due to major project but being able to load my demo save helped get a bit further along.
Day 30, Just made 200,000 pix payment successfully. Now low on funds and stock, not really sure I will make the 500K payment. Will be focusing on adventuring and fusion to try and up my balance.
Merchant Level 12.
Adventurer Status:
Louie, Level 16
Charme, Level 8 (have not gone into a dungeon with her yet)
Caillou, Level 10 (only just unlocked)
Nagi, frequenting shop but have not got her card yet.
Elan, just met in the pub.
Tielle, not seen yet.
I am unsure if Arma is an adventurer but damn she is awesome, frequents the shop.